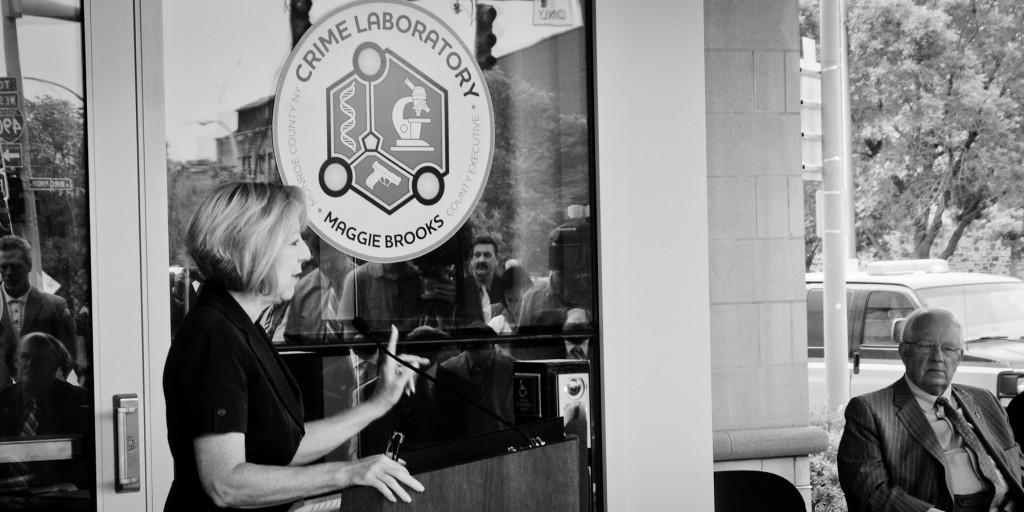 The firing of the director of the Monroe County Crime Lab, Janet Anderson-Seaquist, has Maggie Brooks on the defensive.  Louise Slaughter's office released a statement linking the firings to two scandals with the Airport director and the ROBUTRAD incident. Brooks' weak defense is that her opponent is "playing politics".
Since, as Clarke pointed out yesterday, every peep from the Brooks campaign has been about Brooks' record in Monroe County rather than her position on national issues, it's pretty weak sauce to complain when your opponent raises questions about trouble that happened on your watch. And Brooks' statement that she fired Anderson-Seaquist the moment that she got the Inspector General's report just raises the question of why it took a state investigation for Brooks to find out that her crime lab director told a pretty serious lie and mishandled a fair amount of evidence.
As News 10 points out, a California court ruling in 2011, a year after Anderson-Seaquist was appointed, was pretty scathing about Anderson-Seaquist "[making] things up as she went along". Making stuff up becomes a lifelong habit, so this report makes me wonder whether the hiring process was mishandled by the Brooks administration.
Rachel Barnhart has some more details on the genesis of the Inspector General's report, and points to this D&C piece on disagreements between the Crime Lab and the DA's office. She also notes that defense attorneys approved of Anderson-Seaquist's changes at the crime lab. Maybe Rachel has other information from her sources, but it sounds like the DA's disagreement on some evidence was legitimate, and that the DA's use of an outside testing lab proved they were right in at least one instance.
As with the firing of the last Airport Director, Brooks handled this one quickly and cleanly. Unless some new evidence comes up, I doubt this will have a major political impact on its own, since it doesn't involve cigars, strippers or years of blatant political favors. But it does add one more to the list of personnel issues under Brooks' watch, and that list was already long enough for Slaughter to name it as a serious issue this Fall.
(Photo by Clarke Condé.)